The Crew
We are three brothers, born and raised in the Netherlands (yep, same mom and dad for as far as we know 😉 ), but now living in three different countries. Do we look alike (see photo's below)? Not really, but we all ended up in IT-Industry, and we share a passion for adventure and road-trip, so here we are. We came across this different kind of rally, so we accepted the challenge.
We have our own three charity projects, all projects that have 'touched' us personally, so that makes this trip even more interesting.
The Ride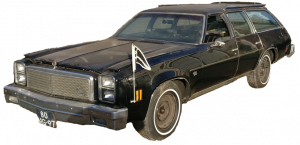 From an old friend, we bought a '76 Chevrolet Malibu Station – Hearse Edition.
This beauty actually did service as hearse for many years in the East of the Netherlands (Achterhoek & Twente).
Now our turn to bring 'new life' to it, put 7500km on it, and see the Midnight Sun… Chevy Power!